Wednesday 28 June 2023, Doors: 6.30pm, Event: 18:30-20:30PM
Lighthouse, Brighton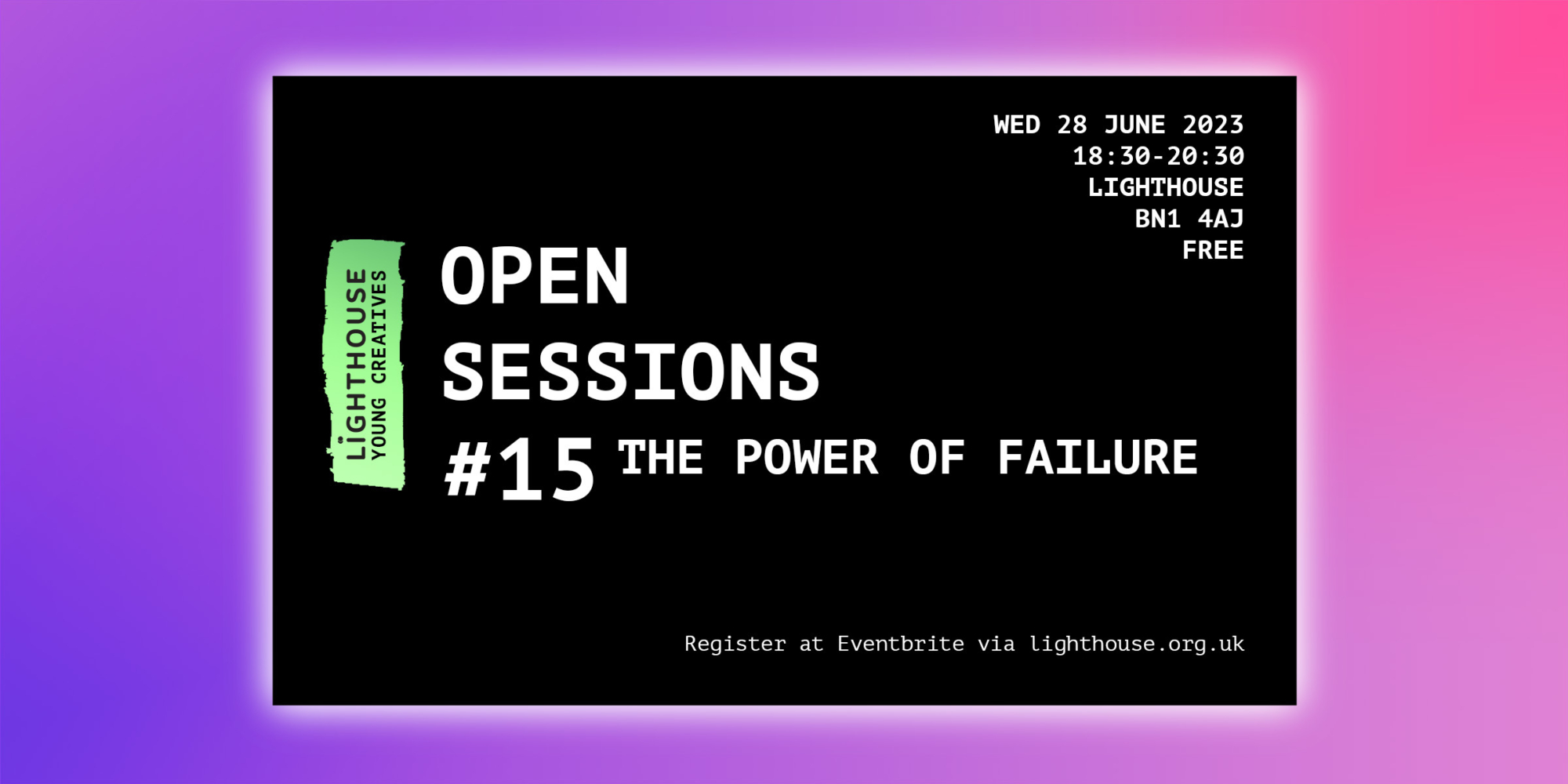 Open Sessions #15
The Power of Failure
Date: Wednesday 28th June 2023
Doors: 6:30 pm
Event: 7:00-9:00 pm
Location: Lighthouse, Kensington Street, Brighton BN1 4AJ
Tickets: FREE, Booking Required
Join us for Open Sessions #15, a thought-provoking panel talk exploring the transformative potential of failure.

Throughout history, failing has been stigmatised and seen as something to be avoided at all costs, which makes functioning as a creative all the more difficult with artists often facing a disproportionate amount of obstacles and setbacks on their creative journeys. However, this event aims to challenge conventional wisdom. By unravelling the complex relationship between failure and creative careers, the panellists will shed light on how failures can shape an artist's identity and ultimately contribute to their long-term success.

The panel, comprised of successful professionals from diverse creative backgrounds, will explore how failures can lead to valuable insights, personal growth, and innovative breakthroughs. Expect invaluable advice on overcoming self-doubt, navigating setbacks, and developing a growth mindset that encourages learning from failures. Let's banish the imposter syndrome once and for all! By sharing their personal experiences and strategies for resilience, they hope to inspire attendees to embrace failure as an integral part of the creative process, from which we can emerge stronger and wiser.

This Open Session is a unique opportunity for artists, creators, and individuals passionate about the creative process to gain insights from seasoned professionals who have triumphed over adversity.


ACCESSIBILITY
Lighthouse is a fully wheelchair accessible venue. This event will be held in the ground floor, level access, reception space. For further information email info@lighthouse.org.uk or call 01273 647197.
About Lighthouse Young Creatives
Lighthouse Open Sessions are an opportunity to make new connections, meet like-minded people, hear from creative people about their career-defining moments and gain advice for getting started in the creative and digital sector.
Lighthouse Young Creatives is a personal and professional development scheme for young people in Brighton & Hove aged 16-25 who aspire to work in the creative industries but face exclusion through lack of access and barriers to participation.
First launched in 2018, the scheme equips participants with the skills, confidence and connections they need to enhance their employability, entrepreneurship and future career prospects through a six-month programme of production skills training, business development support, mentoring, showcasing and networking.

This event is funded by Sussex Community Foundation.
LYC SPONSORS & FUNDERS