Future Everything 2014: City Fictions
---
23 April 2014
Storyteller & Technologist Natalie Kane attended Future Everything Festival in Manchester. Here's her first post on the installations and art accompanying the conference.
Spread out across the city's newly named 'Cultural Quarter' (a distinction, invented by Future Everything, to be taken with a pinch of salt, as this forced landmarking was made in response to the construction of specific cultural and commercial areas by current and future city planners across the globe), City Fictions set up camp with a series of installations, interventions and performances. The pop-up city included work from several artists, designers and practitioners, including Data as Culture, a major partnership between Lighthouse, Future Everything and the Open Data Institute and curated by Shiri Shalmy. Here's a few I encountered, including a dystopic data collection service, an imagined future museum, and the worlds first CV dazzle baby.
YoHa (Graham Harwood and Matsuko Yokokoji) & Matthew Fuller – Endless War
Deep in the basement of the Civic Defense building at City Fictions, through corridors of red halogen lighting and slightly panic inducing signs, was YoHa and Matthew Fuller's Endless War (above). Scouring through the data obtained from Wikileaks' release of the Afghan War Diaries, the three screens show the slow process of going through ninety-one thousand reports. Projecting the results, alongside the harshly electronic soundtrack of the processor's amplified central processing unit, Endless War reveals the systems that analyse this data on the military end, where patterns are found and decisions made based on the results.
Thickear – The Pink Sheet Method
So much of data collection goes relatively unnoticed, submitted via online forms, out of necessity or done hurriedly in order to overstep a bureaucratic hurdle. The Pink Sheet Method (to right), devised by artist collective thickear uses the rhetoric and framing of the friendly clerk, the bank manager or health centre to collect your personal data, face to face. On arriving at their data collection centre, you are run through the process, and then asked for various pieces of personal information, your date of birth, age, marital status, and asked if you own any other person's personal data, and what you think it is worth. At the end of the session, you are asked to consent for your data to be used three times, ending with the disclosure that they don't know what they will do with your data at the last, final stage of the process. This negotiation of trust often goes unnoticed, or unexamined in day-to-day life,
Everything about the process is disclosed, but the language is deliberately vague, overcomplicated, and problematic; the stream of words, jargon and terminologies mean that you don't have enough time to properly consider what you're about to enter, or consent to. When it's claimed that in order for a person to understand the average terms and conditions they have to be educated to a university level, thickear's process is familiar and alienating as you start to recognise the personal patterns and data handovers that have previously gone unscrutinised. Thickear's work makes this process of blanket data collection, a process which has become naturalised, starkly visible. The second phase will be displayed in the ODI building as part of the ongoing Data as Culture exhibition the work is part of, and the third phase will be here, at Lighthouse, in a form that we won't know about until it happens.
Winning Formula
Today's Sport, created as part of the Winning Formula exhibition, was a co-commission between Future Everything and The National Museum of Football. The paper is set in 2018, and imagines a world where data has an overwhelming influence and effect on sport, both on and off the playing field. What happens when you hand over your entire back room strategy to a set of data scientists? Could you DDOS a football team? I'm naturally quite biased as to my opinion of the work, as I was lucky enough to work and write on the project with the three lead artists Scott Smith (Changeist), Phillipe Gargov (Seeklup) and Fabien Girardin (Near Future Laboratory). What was as interesting as the sports side of the paper, was imagining the world that the articles would exist in; the politics, the commerce, the larger socio-political imaginings that framed our speculations on the world cup in Moscow, technology and cricket in china, and Manchester City's potential acquisition by IBM.
Anon Salon – Adam Harvey
Upstairs at the Information Hub was Adam Harvey's Anon Salon, where his work on CV Dazzle – a form of camouflage that renders the wearer unreadable by the facial recognition software used in surveillance technologies – was applied to attendees. Working to a particular counter-surveillance aesthetic, Harvey uses the open source software OpenCV (Open Source Computer Vision) to chart the before-and-after process, culminating in a set of photographs that show the tools that individuals can use, and already possess, to fight back against the architecture of surveillance. Of the participants was 8 month old Theo, officially the youngest person to have been made over.
City Museum
In the City Fictions Museum, a series of strange, future artefacts reside – a catalogue of imagined wearables for our not-too-distant future called Futures 10. James Bridle's Surveillance Spaulder zaps the wearer with an electric pulse when it senses the electromagnetic signature of a CCTV camera, making the institutional violences on the individual immediately visceral. Open Informant, a project by design studio Superflux, uses the database of trigger words identified by GCHQ as indicators of high-risk activity to scrape through an individual's private correspondences. Anything deemed as dangerous, or with a high enough concentration of trigger words, is displayed openly on the wearer's badge as a form of technological protest, making visible the absurdity of the algorithm's blind invasion of privacy. Alongside the array of wearables were a few artefacts from Adrian Hon's project, The History of the Future in 100 Objects, including letters from Mars in 2057, future emergency medicine dispersal systems in 2020, and documents that tested the identity of neuroethicists in 2066.
In an annexe to the side, Superflux's 5th Dimensional Camera translates Everett's 'Many Worlds' theory of quantum mechanics into a tangible prototype. It simply asks us to imagine it as an instrument with which to view several dimensions at once, something to make matter at a quantum level visible.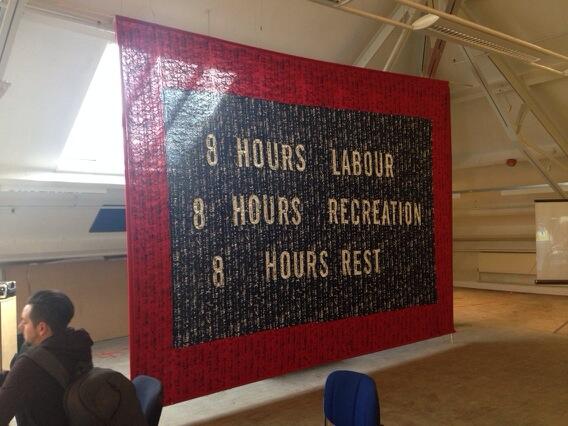 Sam Meech – Punchcard Economy
Looming across a space filled with makers and hackers, Sam Meech's tapestry declares the maxim of Robert Owen's Eight Hour Day Movement – '8 hours labour, 8 hours recreation, 8 hours rest.' Generated from punchcards donated by volunteers, the project notes the hours the individual works outside of the 9-5 working day and weaves them into a tapestry that clearly erases the suggested working week, only showing the deviation as a pattern. At Future Everything, Sam Meech set up a factory-centred workshop with knitting machines and punchcards, and asked festival participants to visualise their own record of data with wool.
Speaking to the curator of the Data as Culture exhibition, Shiri Shalmy, we wondered on the visualisation of the noise of modern labour that the tapestry generates. If we all lived to this idealistic maxim, the tapestry would be an empty block of colour, but as is evident in the static of the 'out-of-hours' record, it isn't the case. Late nights, early mornings, all-nighter projects pulled off the day before are all visualised in Sam Meech's giant, 9 foot banner, reminiscent of worker's parades. Shiri logged her hours in the week leading up to the exhibition, and could clearly identify the clear, dense sprawl of wool that showed her deviations from the 8 hours labour, 8 hours recreation, 8 hours rest that was imagined, and fought, for us.
This post is part of our coverage of Future Everything 2014 – Tools For Unknown Futures. We'll be reporting on the conference shortly.
---
Share
---
KEEP IN TOUCH
Sign up to our mailing list to receive regular email updates on exhibitions, events and other news.